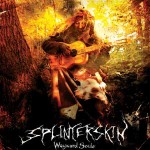 CSR114CD (August 2009)
Splinterskin | Wayward Souls
Caught in the oblivious borderland, Splinterskin unveils his spell after years of solitude and hermetic isolation, in the form of a harsh, dark folk music. His tales are told using an old classical guitar accompanied by haunting vocals, violin, and soothing whispers cradled in the delicate atmospheres of autumn. With simple yet mystically riddled lyrics that beckon, Splinterskin taunts the listener with hidden meanings, allegorical concepts, nearly indescribable deep feelings, and a sense of universal understanding only a spirit as Splinterskin could possibly weave together as music.
'Wayward Souls' is a collection of tales blending life and death, entities & creatures, hidden wisdom, unknown places, pain and suffering, folklore, possession, insanity, nature and the dark world that surrounds.
With tales such as 'Dancing Dead Men,' 'The Thing that Wasn't,' and 'Chanting Bells Call Shadows', one can only suspect the moods are of a dark, moody and nightmarish nature…yet, there are no words to truly describe Splinterskin's message or music.
Track Listing:
1. Chanting Bells Call Shadows
2. Dancing Dead Men
3. The Crumbling Cabin
4. Something In The Walls
5. Moonlight Rain
6. The Thing That Wasn't
7. Broken Down Hearse
8. Still At The Window Sill
9. Hoofbeats
10. The Eyes That Hide
11. The Skarekrow (October Roads)
12. A Horrible Night To Have A Curse
13. Black Bird Sorrow Song
14. The Man On The Porch
15. A Trail Of Trees
16. Wayward Souls
17. Dancing Dead Men (Reprise)
---
---
---
Reviews
Head Heritage
195 Metal CDs (95%)
Vital Weekly
Compulsion
Evening Of Light
Psychedelic Folk
Alternativmusik
Obliveon
Darkroom
Heathen Harvest: The flame-yellow cover strikes as well as this old wander man, archetypal figure haunting the woods… Also, the Splinterskin logo surprises, coming from a folk/neofolk band. "Wayward" is the first album by Splinterskin and it has been signed under Cold Spring, no less! But, the author seemingly is not unexperience.
Howling wolves, owls and crows (12), rain and thunder sounds (1, 12) and old grating door (1) set a sinister atmosphere on this album… Apart from sporadic violin (as the lone on "Chanting Bells Call Shadows") and as various as violin, dulcimer, hand drums or spirit shakers, a simple old classical guitar dominates this album. It has a pure natural sound (2), except its modification on "The Man on the Porch".
Guitar usually develops catchy arpeggiated loops densly filled with harmonious notes. Their intensity and fastness are sometimes really amazing, as on the wonderful "Wayward Soul" track, so that listener feels as transported by these melodies, as in enveloping and bewitching wreaths… Dissonance is also sometimes used (4), once really subtly (16), a well as higher notes (14) in a more epic fashion, with fast playing (5).
Atmospheres range from melancholy (6) and sad melodies (2, 8), usually quite repetitive, or finding a narrative development, to a really story-telling style (8), filled with pathos of a grating dissonance (6), or towards more traditional-focused ones, closer to elements and nature's wildness (f.i. 15), without forgetting eerily humorous ones (14) or eccentrically bluesy others adorned with lunatic harmonies (13).
We also note changes such as tempo acceleration as ending to the tracks (2, 3, 7) and intensity rising through loudness (12). Such a playfully impredictableness adds to the wildness of the music. Typically voice is rather sober and adopts a semi-whispered style, quite echoed (2, 3, 7), sometimes theatrical (12) and falsely poussive (4).  Voice gets sweeter, more melodic and sensitive on "The Eyes That Hide". Voice fits the music, but it tends to remain free, voluntarily featuring inaccuracies (16). This keeps alive a raw, slightly "improvised" feeling, instead of a cold studio production.
Lyrics deal with morbid (7) and symbolic (8), nightmarish (8), ghosts' (4), tales-like stories (2), legends like accounts (3, 14), metaphysical (6) themes. Texts are simple and don't seem to be searching to be really poetic, despite rhymes: their main effect is setting an atmospheres.
A certain narrative intensity is present: sometimes there's a perfect convergence between the legend / folk tale and the music (8, 12).
Let's forget the kinda catchy cover and its demonic figure with serpentine look and mansonian beard. Music is much more mysterious, intimate and sincere than we could imagine. Not without reminding guitar sounds and melodies of Empyrium, later period, apart from going forwards into English style, reminding also Sol Invictus. Some songs are quite short, and may seem to finish too soon.
Bareness of melody doesn't mean guitars aren't elaborated. No need for more instruments or more guitars' layers: it's expressive and intensive enough. This album is a demonstration of both demonic skills' playing abilities and composition intelligence. Music and text merge organically on a few very accomplished songs.
Splinterskin is a one-man project who offers up macabre, horror fuelled, autumnal simmered & strummed dark folk. "Wayward Souls" is the projects debut album and it takes you deep into Splinterskin's sinister,atmosphric & at times darkly fairground wonky sonic world.
The two primal sonic focuses of most of the tracks here are: Splinterskins's often hushed, croaky & woodland roughed vocals. And acoustic guitars that take in folk & classical music hints; as well as the odd nods at more darkly fairground or freak-show minstrel strum, grimness & discordant. Added to the vocals & guitar  are touches of violin, a host of creepy & haunted house bound sound effects or field recordings, and eerier or woodland bound percussive trails & bangs. Lyrically the tracks sort of tread the line between woodland bound Poe tales of murder & creepiness, folklore & dark fairytales, and Splinterskin's creepy Wildman of woods persona.  Through it's fairly sparse sonically the pace & pitch of the songs is varied & enjoyable through-out with Splinterskin managing to balance nicely between been memroble, creepy and at times a little tongue-in–cheek in his approach.
The only thing that does let down the album as a whole is the often rather ham-fisted, badly placed & at times too loud creepy effects & sounds. Prime example of this comes with the intro track which sounds like a badly cobbling together of  Hammer horror weather sounds, bell tolling's, grave diggings & slow door creaks rolled over by wonky & wavering violin discord-truly it's an awful sonic concoction. And through this is the worst example of this sound effect bound problem they still do pop up ever so often like sore thumbs through-out the tracks, rather ruining the atmosphere & flow of a few tracks. Anyway this aside Wayward Souls is an original & distinctive take on the dark folk genre & I look forward with interest to hearing what Mr Splinterskin does next.
Hierophant Nox:
Splinterskin is a project that could just about define 'weird and wonderful' as a musical genre; a solo project which is, as its creator points out, equal parts song and storytelling, it broods in autumnal woods, dipping into the spirit world and bringing back secrets, wisdom and warnings through the medium of intimate folksong. "Wayward Souls" is a remarkable debut, mixing the ethereal with the earthy with such a delicate touch that you'll be hard-pressed to stop the hairs on the back of your neck from tingling.
Key to the untamed, elemental charm of Splinterskin's sound are the enchanting, flowing, naturalistic patterns played out on acoustic guitar, which are secretive and warm all at once. A classical, finger-picking style predominates, but full strumming and some more progressive movements easily intertwine, accented by sparingly-used violins and hand-drums, along with sampled sounds from the wilderness, for a more eerie, ritual feel. Stalking gruffly yet gently between these layers are the deep, breathy male vocals, which summon images of "The Thing that Wasn't" – beings which lurk at the edge of our own dimension.
The whole album is a treasure, with each track setting out with a new creative urge and narrative earnestness, but some stand out – "Something in the Walls" is enchanting with its sweeps and trickles of guitar and sliding vocals exploring possession and the crossing of the veil, "The Thing that Wasn't" is a glorious evocation of a deep forest, with its warm violin line sticking in the mind, whilst "Still at the Window Sill" is sadder, yet mournfully calm. "The Eyes that Hide" has fascinatingly uncanny lyrics, but it's the title track that's the pinnacle of the album, showcasing the very best of all of Splinterskin's guitar techniques, and making sure the listener cannot depart from the world of "Wayward Souls" untouched by a good measure of awe.
These compositions remind me of the gorgeously uncultivated sound of Arkansas musician Count Beetle – the musicianship has a similar oneness with the elements, and a familiar creepy, breathy, spooky, evocative approach, which takes its wide-eyed inspiration from the full moon over deep woods. That Splinterskin has spun this sound out to easily captivate for the duration of a full-length release is very impressive, the end result powerful, haunting yet weirdly reassuring. Experimental folk at its very finest – highly recommended. (92/100)
Judas Kiss:
It seems like a while since Cold Spring released anything from an unknown artist. There was the Bleeding Heart Narrative album earlier this year, but that was a re-release, and BHN had already had a fair bit of press coverage on the basis of their self-released version. Indeed, I'd already seen them supporting Sol Invictus before the album appeared. It's necessary to go back to June last year and I Knew Her, the album from Russian musician Alex Tiuniaev, to find a Cold Spring release that seemingly came out of nowhere. With Wayward Souls, the debut album from Splinterskin, though, Cold Spring have backed a winner, because this is a wonderfully atmospheric and absorbing work.
Splinterskin is a solo musician hailing from Oregon, Ohio. The principal instrument used on Wayward Souls is nylon-stringed acoustic guitar, though the album also features violin, dulcimer, rattles and other hand percussion, and various field recordings of sound effects and nature. No electric instruments at all were used. The 17 tracks on Wayward Souls add up to minutes of playing time, with individual tracks varying between short, fragmentary instrumentals and longer, more elaborately structured narrative pieces. Songs were mostly recorded live on one microphone, without overdubs, resulting in a vibrant, intimate feel to the production. In some ways, these songs sound like demos or campfire songs, although there is a very sophisticated sensibility at work beneath the rough-hewn surface.
Splinterskin's music is raw, minimalist folk, with a distinctively dark, malevolent atmosphere. Imagine The Blair Witch Project realised as an acoustic folk album rather than a low-budget horror film – that'll give you some idea of what I'm talking about. The horror-film feel to Wayward Souls is reinforced by the album artwork, an autumnal feast of reds and golds, with deep, looming shadows, and images of a ramshackle cabin deep in the woods, bone wind-chimes clanking eerily by its door, ghoulish death masks and a prevailing atmosphere of organic decay. Splinterskin himself appears on the front cover, perched on a log holding a battered guitar, and looking like a cross between Leatherface and a possessed scarecrow.
Whilst the music of Splinterskin is American dark folk in the vein of Changes, In Gowan Ring, Steve Von Till and perhaps most particularly the 'Samhain folk' of Harvest Rain, his lyrics are something else entirely, a fetid phantasmagoria of corpse stench, funeral pyres, enchanted puppets, grave desecration, vampire-hunting, the living dead, forests, caves, bones, worms, buzzards, ravens and wolves, all flung together into grim little gothic vignettes with strong narrative threads, and related in a cloaked, confiding undertone quite reminiscent of Nicholas Tesluk of Changes. This kind of subject matter is well-worn in horror cinema, of course, but musically speaking, it's more often the preserve of black metal or death metal, and hearing horror stories told well and convincingly within a folk music context is a much more special experience.
After the short instrumental intro, 'Chanting Bells Call Shadows', an atmospheric sound collage of torrential rain, a tolling funeral bell and ominous sounds of digging and scraping, Wayward Souls really gets going with one of its strongest songs, 'Dancing Dead Men', the Tim Burtonesque tale of an old toymaker and the evil puppets he makes, which come alive at night and go out 'searching for their youth, and their grave… or another child to take their place.' Delectably shiversome stuff, which is instrumentally reprised at the album's close.
The opening of 'The Crumbling Cabin' borrows a little too obviously from 'Willow's Song' from The Wicker Man, before the song veers in a more delirious, psychedelic direction. The queasy, hesitant bent notes of 'Something In The Walls' effectively evoke the disturbing, distorted feel of a bad dream, while the instrumental piece which follows, 'Moonlight Rain' conveys a subtler sense of melancholy and sorrow through its rippling Spanish arpeggios. The short but pungent 'Broken Down Hearse' is one of the album's most graveworm-infested songs, crammed with morbid imagery of desecration, pyres, caskets and corpse stench, and narrated in the first person by an Ed Gein-like protagonist on a ghastly moonlit mission.
The bright, cantering dulcimer melody of the instrumental 'Hoofbeats' exudes the mittel-European peasant flavour of Popol Vuh's soundtrack to Werner Herzog's 1979 remake of Nosferatu, and 'The Eyes That Hide' is another strong narrative piece like 'Dancing Dead Men', this time telling of 'a race who avoid the light of day', hiding in the forest, watching and waiting… The album's longest song is 'A Horrible Night To Have A Curse', another great set piece which relates the tale of an vampire hunt which ends in disaster, the sparse guitar and voice arrangement accented by sound effects of rain, howling wolves, hooting owls and creaking doors – cheesy stuff, for sure, but somehow it works. Sound effects of heavy, crunching footfalls and rushing water are also prominent on the instrumental 'A Trail Of Trees', a lovely classical guitar piece, which provides some respite from the relentless horror-show of the album's lyrics.
The album's title track is the last song before the instrumental reprise of 'Dancing Dead Men', and the crystal-clear production picks up every nuance of the fluid plucked guitar melody, every swoop of Splinterskin's fingers up and down the frets. The music is as stark and bare as a tree in winter, yet marvellously involving.
This review has included a lot of film references, but Splinterskin aims at accessing realms of the imagination which are more usually the province of film-makers, and his gift for narrative is so strongly developed. Splinterskin's songs are generally too attention-grabbing to work as actual soundtrack music, but again and again whilst listening to Wayward Souls, I found myself storyboarding the songs, constructing lurid tableaux in my mind's eye. This is an outstanding debut album, and one I will be returning to long after this review is over and done with. As the trees shed their leaves and the shadows lengthen towards Halloween, the damp evening air suffused with the rich aromas of leafmould, fungus and bonfire smoke, Splinterskin provides the ideal soundtrack for autumn. Take me to your backwoods now.
Filth Forge:
Music conceived in isolation and solitude, voluntary exiliated in the remotest depths of North American forests, where another strange entity known as Waldteufel dwells. Splinterskin, a strange and slightly disturbing figure, a cross between a demonic homeless and a woodlands watcher, reveals his existence with an extensive compendium of acoustic stories, recorded between 2006 and 2008 in Oregon and Ohio. "Wayward Souls" must not be approached like a neofolk album, because the music here presented has absolutely nothing to do with that genre: the simple acoustic sound, conjured by an old guitar and, occasionally, violin, is that of a 19th Century storyteller, narrating about the scary legends of wild lands and past times.
The atmosphere is decaying, dusty and mournful, portraying images of cursed characters, doomed adventurers and supernatural creatures, while a cold, endless rain pours down, echoes from the forest and laments of animals suggest the presence of something we would prefer not to deal with. Vocals are eerie, sound like those of an old loner, or of an elemental wandering through the dark woods, warning human intruders to stay away from there at night.
Splinterskin's debut is an interesting listening experience, a haunting journey that won't fail to fascinate different kind of listeners. The only turn off of "Wayward Souls" is represented by the high number of songs, seventeen, making the CD sound a bit repetitive after a while, since there's no significant variation in the sound between them. Anyway, we're definitely in front of something different and intriguing in a scene constantly at risk of stagnation. Give it a listen.
Blow Up: L'uomo ribattezzatosi Splinterskin, dall'Ohio, prima si condanna ad un isolamento talmente radicale da esser tronfio, poi matura "Wayward Souls". Lo vediamo ritratto in copertina avvolto da una luce aliena, eremita in una foresta che di esseri umani ne ha visti pochi. E questa solitudine profonda e beffarda gli impone l'essenza assoluta, il folk lividamente ancestrale, voce, chitarra, dulcimer, pioggia e tuoni, che guarda oltre l'orizzonte con la saggezza di chi vede e sa che dire a nulla serve, ché tanto esser ascoltati è somma utopia. Dancing Dead Men, Still At The Window Still, The Eyes That Hide, The Skarekrow, l'impetuoso strumentale A Trail Of Trees e l'inginocchio Drake di Wayward Souls raccontano di uomini invincibili nella loro sfida alla modernità tra lune, riti, morte e natura generosa e crudele, sfiorando senza curarsene verità dal nitore annientante, fuori dalle fatue esigenze dell'effimero. Inflessioni vagamente malvagie in Broken Down Hearse e sinistri riverberi in Something In The Walls sembrano comunque assumersi un vano compito monitorio, lasciare traccia di un avvertimento che si è consapevoli non sarà udito. (7/8)
To be original in a carbon copy world is a rare and refreshing treat. All too often, there is a glut of untalented individuals who are incapable of composing material with the slightest hint of originality. In today's music, as well as cinema, virgin creativity is nowhere to be found.
Such is not the case of Splinterskin's debut CD – Wayward Souls. Unsophisticated and unpolished, the dark folk art represented on this opus is without a doubt some of the most original and inspired music that you will ever hear. Ever so slightly reminiscent of Tom Waits's distinctively raspy style, Splinterskin's whispers of haunting vocals flow alongside an unlayered acoustical guitar to give his work the feel of crude, yet, inexorable desolation. The tasteful use of violin and other eerie instrumentation is scattered about the seventeen title tracks as artful splotches of paint dripped over an uneven canvas.
Especially effective are the poetic lyrics that seem to rivet the listener's soul in hopelessness. While most of the compositions have an inner theme of impending doom and gloom, there; nevertheless, is a certain, indescribable sense of spirituality that exists throughout the CD. My personal favorite tracks are "The Thing That Wasn't" and "The Skarekrow."
In addition to the magically alluring compositions, Splinterskin creates an interesting CD jacket of imaginative photographs and renderings that augment his unique storytelling. To those individuals who are looking for something dark and avant-garde, Wayward Souls is "the ticket".
Heaven: De hoes van de cd toont een verwilderd kijkende man met lang verward haar, gehuld in vodden, zittend op een boomstronk. Splinterskin blijkt het alter-ego van Chadwick St. John. De naam reflecteert alles wat hij probeert te zeggen: "to show al the thorns and shredded bark that comes with me …… splinters and all". Hij leeft al vijftien jaar totaal geïsoleerd in Oregon, Ohio in zijn door hoge bomen overschaduwd huis en gunt ons nu een blik in zijn donkere gedachtewereld. Zelf luistert hij bijna niet naar muziek, uitgezonderd klassiek, met name Rachmaninoff. Hij heeft nog nooit voor publiek gespeeld. In de info staan continue de namen van de familie St. John, die hem in alles hebben bijgestaan, o.a. met het prachtige artwork. Wayward Souls herbergt mystieke, basale bosfolk en lijkt herrezen uit eeuwenoude compost, mede door de geheimzinnige klank van zijn stem. Alles is opgenomen met één microfoon, wat het nog breekbaarder en intiemer maakt. Met klassieke, akoestische gitaar, sporadisch aangevuld met dulcimer, viool en wat handclapping, bones en sticks, weet hij een bijzondere sfeer te creëren. Hij vertelt verhalen over verborgen wijsheden, oude tijden, dood en verval, mythologie en de elementen. Zijn nummers zijn authentiek en ongepolijst, soms tegen een achtergrond van een regenbui. De sfeer van Wayward Souls is indrukwekkend, alsof een mystieke nevel je langzaam omhult. Luister en laat je overtuigen, misschien komt er nooit meer een vervolg! Om met zijn eigen woorden te eindigen: "i am exposing my spirit here …… and it is painfull". Essentieel voor de romantici, dromers en melancholieken onder ons. (4/5)