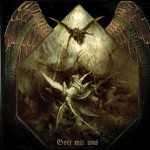 CSR141CD (January 2012)
Kreuzweg Ost | Gott Mit Uns
2nd monumental album from Kreuzweg Ost for Cold Spring, headed by Michael Gregor (SUMMONING / AMESTIGON). "We see a light through the dim and cloudy shadows of our existence. In the electric field between. Total faith and desperation, hope and doubt, eternal bliss and delusion, we walk an unsure path to an unknown end. When the clouds open, the light navigates. The loud music of the sky: pounding drums surrounded by trumpets and swirling voices echoing from a distance unknown". Kreuzweg Ost rises again with God on their side. "Gott Mit Uns" combines a variety of different musical styles: from Martial Industrial to Classical sounds, from deep Ambient to cinematic Pop music. These musical prayers are made for those seeking salvation.
Track Listing:
1. Exitus In Paradisum
2. Calvaria
3. Stammen
4. Heiliger Gehorsam
5. Thy Will Be Done
6. Black Moon
7. Geh Mit Gott
8. Feuertaufe
9. Geistige Emigration
Barcode: 8 2356650512 9
* Gothic.at Albums Of The Year 2012

---

---
---
Reviews
Terra Relicta (9/10)
Darkroom
Necroweb (9/10)
Kultureterrorismus
Zware Metalen
DP-Motiv
Side-Line:  Michael Gregor aka Silenius is a rather busy artist. Being involved in different projects he now recovered Kreuzweg Ost from the dust. Together with his acolytes Oliver Stummer and Martin Schirenc the 3rd opus of Kreuzweg Ost has been finally achieved. It's the 2nd album released by Cold Spring, which comes 7 years after "Edelrost".  "Gott Mit Uns" ("God With Us") sounds rather epic like. Constructed with drones, martial elements, dark-ambient atmospheres and some German samples, the album is diversified. It sometimes gives me the impression of being a perfect soundtrack. "Calvaria" is a remarkable work in the genre. I especially like the epic character running through the track. A similar epic impression comes back on "Thy Will Be Done" and "Geh Mit Gott". The track "Geh Mit Gott" is a little jewel. It sounds as the perfect mix of epic arrangements and dark-ambient. The German samples inject an intriguing and sometimes controversial element. The work of Kreuzweg Ost is characterized by very impressive writing. The tracks were constructed with multiple sounds and effects. Crashing sounds and even vague tribal elements can be noticed now and then. There's a kind of unexpected harmony between epic harshness and refined arrangements. The rather martial sounding "Feuertaufe" is another magic piece from this album. Despite of the title, "Gott Mit Uns" is much more devilish than you might expect. It's a remarkable release in its genre.
Chain D.L.K.: I want to believe raving insinuations about relations between so-called martial industrial and nazi propaganda, supported in the past by paranoid groups such as Anti-Defamation League or other ones which had or just have a strange perspective on the concept of freedom in arts which often turns the capacity of understanding a provocative language into a poser, have been filed once and for all. I thought such a preamble could be necessary as references to Utoeya massacre included in the track "Calvaria" by this interesting Austrian project, headed by Michael Gregor aka Silenius, could be purposefully misunderstood as well as other references spread all over Krezweg Ost's third act whereas even a 9-years old pupil could understand its intention, which sounds clear since its title "Gott Mit Uns" (German for "God With Us"), so that listeners will easily catch that it focuses on fanaticism and its ominous offspring and such a goal has been reached by means of a very wise musical operation of syncretism, fed with martial industrial, darkwave, ambient, drones, classical military music, movie samples and soundtracks, whose stylistical peaks have been climbed in tracks like "Geh Mit Gott", "Geistige Emigration", the above-mentioned "Calvaria" – who knows if it could act as a wise hint to Norwegian Court in order to better crack Breivik's mind -, the disquieting electric ventilator-aided march of "Stammen" and the cinematic hooks of "Thy Will Be Done". An authentic piece of uplifting musical literature! (4.5/5)
Blow Up: Centellinano accuratamente le loro pubblicazioni Kreuzweg Ost, tanto che "Gott mit uns" esce a dodici anni anni dal loro  debutto "Iron Avantgarde" e a sei dall'ottimo "Edelrost" (BU#91). La sigla viennese ha allestito un'opera di inusitata potenza e di impressionante vigore, che sostiene durate dei singoli brani non indifferenti, superano i sette minuti con l'unica eccezione dell'epilogo Geistige Emigration, tra parossistici aneliti decadenti e marce che inflessibilmente lasciano terra bruciata, con frangenti di suggestione assai consistente, in particolare in Calvaria, Feuertaufe, Geh mit Got, tempestosamente incontenibile, Thy Will Be Done, con per loro non inediti accenni mediorientali, con struggimenti nostalgici di trascinante, eroico, romanticismo in Stammen e pressanti inviti al sacrificio in Heiliger Gehorsam.