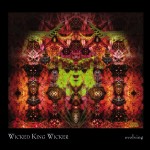 CSR154CD (August 2013)
Wicked King Wicker | Evolving
Brand new studio album from Wicked King Wicker. WKW return to Cold Spring with their seventh album proper. Thick, black noise is underpinned by monolithic, crawling doom, in a way that only Wicked King Wicker can deliver. Total annihilation spread over 4 immense tracks. 45 minutes of music to shatter souls. Features cover art from Steve Cerio (The Residents' regular designer). "…rather impressive they are… it's great" (Stuart Maconie, BBC Radio 6 Music)
Track listing:
1. The Devil Must Learn The Limitations Of The Host (10:00)
2. A Prayer For Death (15:36)
3. Zen And The Art Of Nihilism (12:41)
4. The High Exalted Nothing (7:30)
Barcode: 5060174954139
---
---
Reviews:
Side-Line
Musique Machine
Chain D.L.K.
Intravenous
Sounds Behind The Corner
Darkroom
Mentenebre
Lux Atenea
LaLetra Capital
Mithra!
Other:
Aquarius: "Evolving is the latest from NY doom/sludge/dirge/drone duo
Wicked King Wicker, and does in fact find the band evolving, their
already blackened, tarpit, ambient dirgery moving further away from
any proper metallic riffery, and instead, exploding in a supernova of
power electronics and blacknoize brutality. The opening track here, a
10 minute sprawl titled "The Devil Must Learn The Limitations Of The
Host", drapes a pulsating buzz over a field of grinding blackened
electronics, of rumbling, crumbling drones, the vibe weirdly motorik,
buried beneath all the noisiness, there seems to be strange shapes
drifting, hauntingly melodic, giving the noisiness a mysteriously
tranquil core. Soon the sound is engulfed in swirls of white noise,
swaths of hiss and static, there seem to be vocals as well, buried in
the mix, a monstrous bellow, blurred into still more smeared soft
focus blackbuzz, the sound locked into an almost kraut-drone
noisiness, before splintering into something much more caustic and
chaotic, but still anchored by that buzzing riff-like pulsation.
That track definitely lays the foundation, as "A Prayer For
Death" explodes right out of the gate, a heady, howling blast of
Merzbowian murk, all churning, roiling crunch, and like that first
track, obscuring something much more melodic underneath, this time, a
dirgey slowcore pulse, and a field of constantly shifting textures,
shards of feedback rain from the sky like hailstones, squalls of
grinding skree, and crumbling distortion, all woven into something
weirdly hypnotic, yet still undeniably brutal and caustic.
Things don't really let up. "Zen And The Art Of Nihilism"
unfurls a field of grinding low end, wreathed in sheets of ear
shredding upper register blasts, again, somehow transformed into
something weirdly rhythmic, and strangely listenable, this track in
particular, almost like multiple black metal riffs, melted down, and
poured directly into your earholes, a tar black sonic pitch, pure
blacknoize bliss. And finally, "The High Exalted Nothing" finishes
things off with a riffy, dirgey churn, a darkly propulsive black
dirge, almost industrial sounding, like Wolf Eyes meets SUNNO))) meets
Bunkur, with some seriously terrifying vokills, no high end on this
one, a black murk blowout that might be our favorite track here!"
Rock-A-Rolla: "Like a wooden cart clacking its ungainly way up a rusting roller coaster track, or a jet engine firing up into the listener's face, Evolving is pregnant with gruesome, sinister threat. The intensity constantly escalates; churned up bass drums pound ever louder from behind the album's membrane of oily spluttering motor noise, which in turn is constantly cranked up until it's left screaming into the point of eruption, forever threatening to burst without Wicked King Wicker ever actually needing to press the big red button. When implication is as ferocious as this – a filthy mill of molten feedback and crackle, heaving under its own outward pressure – implication is more than enough".