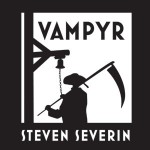 CSR170CD (July 2012)
Steven Severin | Vampyr
Following on from 2010's 'Blood Of A Poet' (CSR135CD), Steven Severin presents the third score in his 'Music For Silentes' series. Acclaimed solo artist and founder member of the legendary Siouxsie And The Banshees, Severin presents a mesmerising score, heightening appreciation of the surreal and enigmatic nature of the original work.
'Vampyr', Carl Theodor Dreyer's unsettling tale of fear and obsession, finds its aural counterpart in Severin's textured score; a synthesised, highly atmospheric soundscape drawing the listener rhythmically into the story.
Shot with a silent film aesthetic despite being within the sound era (and a year after Lugosi starred in Universal's 'Dracula'), 'Vampyr' is an alternative take on the cinematic vampire, creating an intense, nightmarish atmosphere that haunts the mind.
Presented in a textured card sleeve with artwork by Arban.
Track listing:
1. Through A Glass Darkly
2. Allan's Theme
3. Upon My Death
4. Shadow's Play
5. They Are Murdering Him
6. (Intersection)
7. Giselle's Theme
8. Leoné Summoned
9. Leoné Smiles
10. Bloodwork
11. Poison / Aftermath
12. (Intersection)
13. Phantom's Journey
14. The Apparition
15. The Mill
Barcode: 5060174954085
---

---
---
Reviews