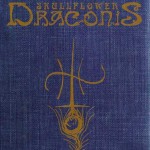 CSR190CD  (September 2014)
Skullflower | Draconis
Synapse scorching occult industrial prog noise folk from the strings of Matthew Bower and Samantha Davies.
Churning mantras and drukpa elegies for two erased darkside tree limbs: that of the Draconian in Khem, and of Drax Priory in West Yorkshire, which together with Bhutan are the Dragon Lands. The twilight language of flowers is spoken and wolves are raised, finally, Kali dances. For fans of Bathory and Popul Vuh.
Comes in a deluxe 6-panel outsized double-digipak with a 16-page booklet.
---
---
---
Track listing:
CD1
1. Cauda Draconis
2. Dazed Nymph In The N.O.X.
3. Dark Daze, To Raise Wolves
4. Nightblooms For The Witch Queen
4. Caput Draconis
CD2:
1. Alien Awakening
2. Autumns Trinkets
3. Sunset Dreams
4. Dresden Spires
5. Dakshinikalika
---
Reviews
Normans Records (9/10)
Compulsion
Vital Weekly
Musique Machine
Dusted
Side-Line
Alternativmusik
Lux Atenea
Aquarius: It's hard to believe UK industrial / noise rock / psychedelic
outfit Skullflower has been around for going on 26 years now. And even
harder to believe that after numerous lineups and sonic shifts, that
Skullflower mainman Matthew Bower and company are still making such a
glorious racket. That company this time around (and for the last few
SF records) consists specifically of Samantha Davies, Bower's longtime
partner in musical crime, and on Draconis, the two somehow channel
SF's serpentine sonic path, from lurching pigfuck thud to transcendent
psychedelic riffery, to blown out cosmic raga, to black metal /
blacknoize ferocity, into something transcendent and strangely lovely,
the sound here much more reminiscent of Bower's more blissful alter
ego as Sunroof! The opening track erupts in a swirl of keening
melodies arcing over a bed of churning and roiling soft noise, with
wild tangles of melodies blurred and smeared into a gloriously dense
whole, buried voices, maybe samples, all wound up into a shimmering
psychedelic super nova, a heady, hypnotic wall of blue and green and
orange and red sound, prismatic and impossibly pretty, a delirious
dream-noise that somehow bleeds right into the next track, somehow
getting even prettier, sure it's buried beneath clouds of hissing
static, and gristly glitch, but the lilting loveliness shines through,
like some alien folk music, bathed in short wave radio interference, a
transmission from some other far away world, the sound decayed and
wreathed in clouds of dreamlike interference.
The rest of the first disc remains surprisingly pretty, whether
it's a lush layered landscape of textured sonic gristle, sculpted
static, and buried melodies, or swirling synthy psychedelia, clouds of
majestic ur-drones that could just as easily have come from Astral
Social Club or Our Love Will Destroy The World. And even when it does
get noisy, like the churning industrial clanger "Nightblooms For The
Witch Queen", a roiling sea of staticky pulsations and distant pipe
fight percussion, it's swaddled in dense swirls of rumbling thrum and
greyed shimmer. The first disc finishes off with a serious onslaught
of noise, a wild squall of psychedelia, a tangle of synths and
guitars, atop what sounds like a buried doom metal churn, somehow
those two elements heeled into one, epic, majestic whole. A little
foreshadowing, as the second disc starts out a little darker,
beginning with streaks of sublimated black metal, filtered through
Bower's cracked sonic lens, a brief bout of furious, fast picked
distorto-guitar, but WAY down in the mix, beneath a thick layer of
grinding, rumbling whir. But that blackness quickly abates, and soon
it's back to more soaring sonic effulgence, woozy chords are pitch
shifted into dizzying swoops of sound, all the various spidery
tendrils wound up into bleary bursts of transcendent psych-noise,
butted up against more hushed stretches, the droning, keening guitars
muted into dreamlike thrums, over slowly unfolding sprawls of slow
motion downer rock, but so stretched out and disembodied that it
sounds almost ambient, like a spaced out Dead C.
There's still some droned out guitar dirgery, again transformed
into something weirdly mesmeric, and almost cinematic, a field of
churning downtuned riffs pulsing beneath long tones, layered and
gradually decaying and bleeding into the whirling shimmer below,
culminating in the 15 minute closer, also noisy, but lo-fi, and again,
while the surface seems corrosive and caustic, it's barely obscuring
what sounds like some lost Philip Jeck piece underneath, all warmly
melodic loops, even some strings, it all ends up sounding like some
strange Christmas carol, or ancient hymn, the feel is liturgical,
dreamlike, a faded chamber music, nods to the Caretaker too, but that
burnished beauty is tempered by the gauzy sonic cowl surrounding it, a
crumbling halo of hiss, and what sounds like a lost shortwave
broadcast from the ether, the combination of the two is stunning, the
whole track infused with a dark melancholia the likes of which we've
never really heard from Skullflower before.
Stunning packaging too, an oversized 6 panel dvd-style
digibook, adorned with all manner of mysterious sigils and mandalas,
inside a booklet with strange photographs, Bower's distinctive
watercolor artwork, and a diagram of the sky over the pyramids at
Gizeh, dated 2500 B.C.