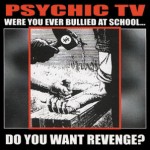 CSR27CD (1999)
Psychic TV | Were You Ever Bullied At School – Do You Want Revenge?
Recorded live in 1984, the two live shows demonstrate the diversity and originality of the PSYCHIC TV sound – a brilliant demonstration of why they are still considered one of the most important bands in history. All Tracks are written by GENESIS P-ORRIDGE/ALEX FERGUSSON. An essential and complete document of PTV history – a must have for all PTV fans! Though the dates both shows are close to each other, the musical sets are very different – demonstrating the versatility of this band! Double CD set, limited to 1,500 copies. Deleted.
Track listing:
CD 1 : Live In Frankfurt, 10th December 1984
1. Turn The Golden Thread
2. Spin The Blood Red Thread
3. Rope Your Self
4. Unclean (Dead Dog River)
5. Godstars Never Fade They Merely Re-incarnate
6. Ov Power
7. Shango And Come Back!
CD 2: Live In Hamburg, 16th September 1984
1. Thee Legge Songe
2. Soul Eater
3. Unclean (Bring Out Your Dead)
4. Godstar (Never Forget)
5. I Can See Your Eye Can I
6. Ov Power, Corruption And Magick
7. Papal Breakdance…
---