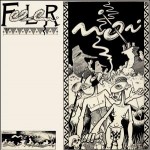 CSR2LP (Unreleased)
Various Artists | Feeler
Split vinyl album featuring one side ALAN MOORE and the other side was to be PSYCHIC TV. This album was withdrawn before manufacture for legal reasons.
The split vinyl LP was due to be released 1991. We had gain two exclusive tracks from each artist. The writer ALAN MOORE (famous for such works as The Watchmen, etc) had put a band together called THE SATANIC NURSES and one of the first works was a track called "…Morgue." In the line-up of the band was Kevin Haskins of BAUHAUS and LOVE & ROCKETS infamy, playing drums. Three weeks prior to release, Justin Mitchell received a telephone call from Beggars Banquet demanding that we pay for Haskins involvement. It was insisted that it was a legal necessity that his name be credited, and then we would owe "a LOT of money". Being a label new to the expenses of vinyl manufacture (let alone MCPS, etc), we couldn't afford it. The album had to be pulled. We heard rumours that Beggars Banquet had been impressed with the Alan Moore idea and had basically wanted it for their own. But, they released nothing similar.
We'd gone so far down the road and worked so hard to pull this record together, so to us the album was a reality, hence it's inclusion in the official discography. The flipside was an unedited live track by Psychic TV called "New Regeneration" with a incomparable line-up: Genesis and Paula P-Orridge, Dave Ball (SOFT CELL, THE GRID), Monte Cazazza, John Gosling, Hilmar Orn Hilmarsson and Mouse. An edited version can be found on the "Live In Heaven" vinyl LP (Temple TOPY018).
Track listing:
1. …Morgue (Alan Moore)
2. New Generation (Psychic TV)