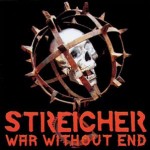 CSR41CD (2002)
Streicher | War Without End
STREICHER are one of the Industrial underground legends – starting in Australia in the mid 80s, Ülex Xane began a number of extreme noise projects released mostly on cassette and distributed through the tape networks up to the early 90s. The original cassettes are now sought after collectors items. STREICHER utilise a mix of total noise / power noise with covert military recordings, military equipment, radar signals, military telecommunication signals. It is a stark comment on the current war against terrorism – literally, a war without end. This is the first time the finest recordings of STREICHER have been digitally remastered and presented to you on CD. Ltd x 1000. Last copies.
Track listing:
1. Let Slip The Dogs Of War
2. EOD Ordnance Detector
3. Internal Security Troposcatter Alert
4. Perimeter Guard (Tyrant Trooper)
5. Voltage Liquidation
6. Interdiction By Force (S.N.A. #0 Live)
7. Martyrdom's Call
8. Coded Channels
9. Threatcon Delta
10. World Trade Center
11. Terrorist Reality (S.N.A. #1 Live)
Barcode: 01753342122
---

---
---
---
Reviews
Orkus: Ohne Blatt vorm Mund oder irgendwas zu verbergen, führten Streicher ab Mitte der Achtziger mit ihrem radikalen, kompromisslosen Sound – gerne als "Tactical Electronics" bezeichnet – ihren Krieg gegen den Terrorismus, gegen die Menschheit, gegen allen humanen Unrat… Mastermind Ulex Xane veröffentlichte damals unzählige Tapes, von denen nun für War Without End elf Tracks ausgewählt, digital remastert und auf CD gepresst wurden. Der Australier hält sich in unmittelbarer Krachbarschaft von Brighter Death Now auf, lässt jedoch merklich mehr Fremdeinflüsse zu, ist somit ein Stück weit weniger harsch, dafür deutlich widerlicher und in Offensichtlichkeit erschreckender. Aktuell wie nie, sind Xanes Hass-Industrials im Jahr 2005 die perfekte Kampfansage, gibt es doch heute wesentlich mehr Verachtenswertes auf dieser Welt als in den letzten zwei Jahrzehnten zusammen, und was die Qualität der düster-bodenlosen Werke wie den Mammuts Let Slip The Dogs Of War und Terrorist Reality (wie Interdiction By Force hier in einer Live-Version) sowie der Traktoren- und Rausch-Noise-Tracks wie etwa Voltage Liquidation, Martyrdom's Call oder Threatcon Delta angeht, besteht kein Zweifel an der Wichtigkeit von Streicher für das Industrial-Genre.