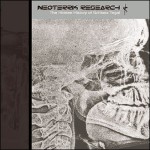 CSR45CD (April 2004)
Schloss Tegal | Neoterrik Research: The Hidden History Of Schloss Tegal
A collection of compilation tracks, pieces only originally available on vinyl, and new and exclusive material from one of the scene's best selling, darkest sonic scientists. This is a definitive statement on the rise of TEGAL from the early days of vinyl and noise to the modern soundtracks of a uniquely brooding nature. Ltd x 1000. Sold Out.
Track Listing:
1. Last Glint Of Consciousness
2. Zero Situation
3. Feigeschrei (Folkstorm ST Remix)
4. The Demon That Feeds On The Chaos Of Man
5. Collapse Of The Wave Function
6. Unsub (Insect Mind)
7. Technocore (Iteration X)
8. Anti-Life Equation
a. Auto-Special Doctrine
b. Strike Code Launch
c. Autonomous Killing Systems
9. Black Static Transmission
10. The Hidden Variable
11. Invitation To An Outrage (Reptilian Mind)
Barcode: 823566014720

---
---
Reviews
Terrorizer: "Right from the start, this compilation of rare Schloss Tegal soundscapes is nothing but harsh and cold. The manipulation of electronics and natural environments sends unnerving shivers across your body and through the very air itself. Sub sonic bass rumbles build and morph and the occasional disconcerting voice whispers bleak and haunting mantras. The unrelenting desolate atmosphere Schloss Tegal evokes can be a might depressing and overwhelming, but for this kind of noise, that's a compliment. So, if the darkness is your friend then this soundtrack will bring it even closer, open the void and tempt you in".
Zero Tolerance: "a veritable feast of rare, deleted, remixed and unreleased material…Having become one of the most name-dropped artists of the dark ambient world, 'Neoterrik' also offers, aside from the 'snaggered it at last' side, an excellent overview of the band's career that stretches across time and also shows off several different facets of Schloss Tegal for both the experienced and novice alike."
Industrial Nation: "a collection of odds n' ends compilation, out of print and remixed tracks by one of the masters of dark noise dynamics, Schloss Tegal. Not one's to simply grind out generic, artificial odes meant to frighten or unnerve, Schloss Tegal delve deeper into the psychosis of dread, intently exploring subversive subjects with an honesty and integrity rarely exhibited in music nowadays. They have a knack for sonically crawling under the skin and meticulously massaging the synaptic transitways, sparking a true sense of unease that is palpable…There's too much great sound manipulation here for me to get into it all, suffice to say, Neoterrik Research is an excellent representation of the work of Schloss Tegal – but I'd recommend checking out all of their work – it's that amazing!"
Phosphor: "Schloss Tegal has built quite a reputation in the dark, industrial scene… Schloss Tegal impresses with slow-moving dark ambient… but Neoterrik research offers more, for instance the harsh, mechanical mix by labelmates Folkstorm. Due to this collection of excellent dark, long drawn-out apocalyptic soundscapes, hypnotic experimental noise, ritual drones and organic moments, Mark Burch and Richard Schneider prove that their material has been of a constant high level during the years. An album without a weak moment. But Schloss Tegal fans would have known that in advance".
Dark Life: "Spanning through noise drones, mechanical loops, organised and chaotic chaos, apocalyptic soundscapes, hypnotic stretching of sounds, rumbling waves and even "proper" droning ambient, the album goes a long way in illustrating the varied forms of obscure expression this project has taken upon through the years. None of them is for the light earthed and the world of Schloss Tegal is definitely a menacing, unforgiving one. So dive in, treat yourself to some of the classiest sonic punishment you could hope for."
Musicboom: "Schloss Tegal riesce a mantenere una ispirazione sempre interessante, e per chi non fosse particolarmente addentro alla sua discografia questa raccolta potrebbe essere estremamente utile. "Neoterrik Research" raduna infatti alcune composizioni di difficile reperibilità e presenta il curriculum di Schloss Tegal in undici tracce ben selezionate… In definitiva, una piacevolissima oasi nera come la pece nel deserto scuro della dark ambient contemporanea."
Ritual Magazine: 'The Hidden History Of Schloss Tegal' è il chiaro sottotitolo che ci fa da benvenuto per conoscere in via definitiva e dettagliata le produzioni più remote e particolari di questo progetto: undici cupi ritagli di dissonanze elettroniche precedentemente mai pubblicati o editi in varie compilation sparse per il globo e in vinili ora quasi irreperibili. Più vicino alla sperimentazione che alle maniere spicciole dell'energia power electronics di targa industriale, il materiale di ST prende con le pinze anche la definizione di ambient music, ripresentando la stessa a nuova veste in un labirintico aggrovigliarsi di immobili pulsazioni, suoni invisibili e rumori silenziosi. Un magmatico procedere di atmosfere non facili ma di potente suggestione."