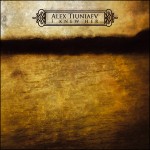 CSR97CD (June 2008)
Alex Tiuniaev | I Knew Her
Alex Tiuniaev is an electronic musician and producer from Moscow, Russia. 'I knew Her' is a 40-minute long journey of heart-melting, melancholic and neo-symphonic splendour – full of choirs, strings and neoclassical orchestration. This solitary track builds to a haunting and breathtaking crescendo… then brings the listener gently back down to the warm earth. A truly monumental release, with influences ranging from Sigur Rós to Philip Glass and Stars Of The Lid.
Track Listing:
1. I Knew Her (40:15)
---
---
---
---
Reviews:
Vital Weekly
Compulsion
Necroweb
Obliveon
Darkroom
Mentenebre
Chain D.L.K.
Dagheisha

Rock-A-Rolla: (The clinging ache of melancholy pervades this impressive release of modern composition, assembled with precision and force by the debuting Tiuniaev. The stately, warm chord of sequence is a cloudy preface of anticipation reminiscent of the work of Hwyl Nofio and A Silver Mt Zion, groups similarly obsessed with the passing of time and the elusiveness of emotion. Soft shivers of Edgar Froese-like melody emerge from the mist into sleek light as the piece prepares to expand. The hypnotic counter-tones and scarcely audible washes ripple and exude an unearthly calm, the wooden swells and clustered choir sample arcs mount and bellow like a sail at full tilt, in a seemingly everlasting exhalation and resolution of one simple melodic statement, gathering to a pitch of delirium before easing back from the precipice towards an intangible, evaporating conclusion.
Judas Kiss:  'I Knew Her' is the debut release from Russian composer and electronic musician Alex Tiuniaev, who has previously only has appeared on a select few compilations and collaborative releases. Comprising one track with a running time of a little over 40 minutes, 'I Knew Her' is a bittersweet musical exploration into the very soul of its composer. Gently evolving from heartwarming washes of symphonic splendour, swimming with emotion, depth and passion, you're instantly held spellbound by the enchanting characteristics of Alex's composition, and you also realise that you're exploring territories into which the UK's legendary post-industrial label Cold Spring very rarely ventures. Completely devoid of the noise, harsh electronics and pitch-black ambience which are generally associated with Cold Spring releases, 'I Knew Her' instead delivers a breathtakingly enchanting ambient composition which plucks at your heartstrings as its lush warmth, stirring strings and captivating spectre-like choirs create a truly bewitching and almost spiritual atmosphere that is impossible to ignore. Like accidentally walking into the passionate performance of a cathedral choir in full voice, the intensity, beauty and emotive power of the vocals are incredibly moving. Yet once they resonate through the acoustics of their proud spiritual home, they take on a deeper, more pronounced and overpowering nature, which can in some senses be compared to the atmosphere produced by this phenomenally well-executed and delivered piece of music. You can just imagine its haunting prowess filling the hallowed chambers of an ancient cathedral, and instantly overwhelming anyone with its sheer monumental stance and allure. Slowly over the evolution of the track, the layers of neo-classical orchestration, strings and choirs build and overlay one another, fusing together a delicate cacophony of splendours, sounds and emotions which carry the listener along with an overwhelming intensity. The track's volume and depth build into a dense structure of sounds which take on immensely religious and spiritual qualities, whilst producing a hauntingly beautiful aura that really needs to be heard to fully understand its power, warmth and bittersweet melancholy. Then as the track peaks, it slowly and with an immense care peels away layer upon layer of sounds until you're left with nothing more than a low rumbling that draws an end to a wonderfully spectacular release. Of course music of this nature appeals to a certain time or frame of mind. It needs you to be responsive to its alluringly majestic qualities, to open yourself up and be engulfed by its emotive depth and power. And once you have, you will quite simply find it impossible to find fault with. Whilst not being as dark or malevolent as the majority of the ambient-style releases to have come from the Cold Spring stable, 'I Knew Her' is a beautiful release in its own right, which perhaps owes more to the powerfully moving world of post-rock as opposed to post-industrial, as it isn't exactly a million miles away from the haunting splendour of 'Palmless Prayer / Mass Murder Refrain' , the collaborative release by Mono and World's End Girlfriend, but no matter which way you look at it, 'I Knew Her' is a truly remarkable album, and one which both composer and label should be immensely proud of.
Heathen Harvest:  Hailing from Moscow, alex tiuniaev's "I Knew Her" is the Russian's debut album on the prestigious Cold Spring Records, which features one track in forty minutes to explore an orchestral opus. Neoclassicism, in this day and age, when presented via the underground is usually by way of computer and not by a fully trained orchestra. As such they tend toward poor fidelity and unconvincing scores. Alex Tiuniaev has accomplished stepping out of that low-sample quality mire in his lachrymose exploration with careful arrangements illuming ambience and peopling it with congeries of intriguing motifs. Purity of instrumentation is not maintained to mimic. As the track begins to awaken from the long lines of cello and bass that swell deep oceans, where short staccato of horns piano to mezzo-piano recurring interest the treble strings flare out into digital disruption as they crescendo, a pleasant addition from purity. Swells and lulls, the music undulates a passacaglia of emotive tidal pulls. Not dark, but warmly introspective, the melodies cry upwards… stretching only to sink back a little, but with every pull the music builds. Percussion shimmers in as cymbals are brushed but their deceptive presence arrived minutes before, one of the many groups of orchestration that work in forming a crowd of sound, one where you spot one figure and others creep in off frame. As such there is a lot to digest in "I Knew Her" and its timbre is soft and relaxing enough without drifting to sleep. The use of the choir (courtesy of Spectrasonics sample library, "Symphony of Voices" as so notes tiuniaev in the liner notes) fills the music resolutely, almost a little too much so as they engorge the arrangement at the expense of the subtle layering. Thankfully, tiuniaev diverts attention by introducing new and melodic lines that violins bow languorously.  The whole treatment of the song is crescendo for nearly thirty minutes, from soft plaintive strings to the haunting and sorrowful volume of choral and symphonic union. Dénouement comes in unexpected decrescendo as instrumentation and voices simply fall away as subtly as they arrived. Their emptiness is a lonely experience after such close and powerful song.  Consistency of tone and treatment makes "I Knew Her" an attractive CD overall, but not one that would leap at you from the CD rack. Dark earth and sepia is the patina of choice that blurrs landscapes of half-remembered photographs. Little in the way of liner notes which also adds to the cohesive design presented in jewel-case with full colour four-page booklet.
Filth Forge: From Moscow comes Alex Tiuniaev, a young and eclectic musician moving amongst the most different genres and who is also active with the Garden Hose Universe duo. Cold Spring released this debut CD containing a single track of about 40 minutes, a magniloquent ambient composition with epic and orchestral tones. After a short and distant gloomy intro, the core of "I Knew Her" is displayed in its whole might, through a crescendo of powerful keyboard melodies eventually looped into a mass of sound of Biblical impact. Angelic choirs, solemn and celestial melodies, a strings section and much more pile one above the other, until they give the impression that the Red Sea is about to open once again in front of our own eyes. Every minute passing, the intensity seems to rise unstoppable, and it becomes hard to describe the sensations evoked by Alex's music in a few lines. Around the 30th minute, when the pathos has become almost unbearable, the music starts to untie the grip, shifting slowly towards silence and farewell. "I Knew Her" is a fantastic listening experience, an evocative soundtrack which makes you think of films like "The Gladiator" or "The Lord Of The Rings", as well as the endless celestial fields of Heaven. In the near future, better keep an eye on Alex Tiuniaev and his musical creations!
Gothtronic:  Alex Tiuniaev is an electronic musician and producer from Moscow, Russia. I Knew Her is my first encounter with this talented musician from Russia. And when listening I Knew Her from Alex Tiuniaev I have a mixed feeling. I Knew Her is at one hand a very nice composed and produced one track neo-symphonic track. On the other hand, although there's a constant subtle change during the song, it consists of 40 minutes merely the same tune. For me it is not a problem, although 40 minutes can be a bit lengthy, but maybe some of the readers of this review might have some problems with it. Despite some repetitiveness I Knew Her has become a melodramatic, melancholic symphonic track where electronics, choirs, strings a neoclassical orchestration collide. It sounds as an epic/melancholic soundtrack and could also be enjoyed and loved by ambient fans. And love seems to be the topic of I Knew Her because it is dedicated to everyone who seeks love. Especially the first 30 minutes are interesting. After these 30 minutes I start to loose interest in this album. And that's a pity because the first 30 minutes I was dwelling in the world of I Knew Her……and it was quite a nice journey.
Obskure: Alex Tiuniaev, Moscovite adorateur de musique british et faiseur de sons électroniques (mais aussi folk et… new age, oui), assure en prime, avec le Californien John Luttrell, le leadership du groupe rock Garden Hose Universe (un EP en date de 2006, "Falling"). Tiuniaev s'impose par ailleurs en producteur du premier single ("Angels or Demons") et du premier album de l'artiste folk rock Celeste Terrell ("Live Your Dreams"). Tiuniaev livre via le renommé label ambiant / indus Cold Spring un nouvel essai solo assez atypique, "I Knew Her", succèdant à "Artificial Symphony". "I Knew Her", constitué d'une seule et même longue plage de quarante minutes au style strict, une oscillométrie orchestrale et vaporeuse qui s'avère peu révélatrice des influences multiples dont l'auteur s'estime porteur, en dehors de ces Philip Glass et Sigur Rós cités en premières références de l'album. Au côté de ces derniers, siègent dans la galerie d'influences de Tiuniaev des gens tels que les pionniers electro Vangelis, Jean Michel Jarre, Space, Mike Oldfield, puis Tangerine Dream, Chris Franke, Brian Eno, Beck, Daniel Lanois, Bob Marley, Arvö Pärt, Explosions In The Sky, Björk, Erik Satie, Mum, Hans Zimmer, Radiohead ou U2, cités entre autres sur la page MySpace de l'artiste. C'est die si l'univers de Tiuniaev ne se limite pas, et de loin, aux grands classiques ou à la musique ambiante. Ce type est dans l'ouverture, il le proclame lui-même. Le fond est d'ordre mélancolique, clairement. "I Knew Her" donne alors son titre et la nostalgie qu'il porte intrinsèquement, à ce chapitre studio. Ses orchestrations retenues, noires et romantiques, créent un spectre sonore dont les profondeurs se délivrent doucement autour d'un motif harmonique unique. C'est donc moins le sens de la composition que les arrangements et le travail sur le son qui font que l'on remarquera "I Knew Her". Sinueux, recherchant dans l'unicité et le long terme (en musique) la création climatique, ce disque fait de retenue imprime un doux graphe émotionnel et garde très clairement une dimension introspective. Son format s'inscrit ainsi, à l'instar de nombre de travaux issus des très pratiques étiquettes "néoclassique" ou "Dark Ambient", à contre-courant de l'exigence de rapidité et d'efficacité qui dicte ses impératifs à bon nombre de formats musicaux. "I Knew Her", lui, est un essai qui vous demande réellement de prendre le temps, un disque de patience mais au terme duquel on se demande tout de même si autant de temps, justement, n'aurait pu être employé à davantage de variations autour du thème central. Tel n'a pas été le choix du Moscovite, qui a préféré miser sur la répétition et l'absence de percussions, choix qui n'était pas celui du bien nommé "Artificial Symphony" de 2006. Si l'option en tant que telle n'a rien de contestable, puisqu'elle fait l'essence du travail, son revers est de limiter sensiblement la portée d'un disque dont les splendeurs autant symphoniques qu'artificielles auraient pu gagner de plus vastes dimensions, à l'heure où Tiuniaev ambitionne toujours de conduire de réels orchestres. Son orchestration, à lui, est celle de la boucle. Un crescendo fondé sur la greffe progressive de couches synthétiques sinueuses et de d'effets choraux : une symphonie artificielle post-Glass qui garde pour elle, assurément, un niveau de beauté ; mais dont l'approche visera, on l'espère vivement, à gagner une envergure autre que celle de cette musique touchante, stricte et soignée, mais encore étriquée sur le plan du style.
Sonomu: A place beyond gravity. Though it breathes in and out, organically. There is life here and where there is life, there is hope. Broken-hearted but still "dedicated to those out there seeking love". The simplest of structures, the massing of strings and voices, reminiscent of Gorecki´s popular Symphony No 3 without the histrionic vocal peak. It feels rich and warm and deep for something entirely synthesized, chorals included. Alex Tiuniaev must have very sensitive fingers.