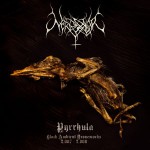 CSR98CD (June 2008)
Nordvargr | Pyrrhula
Partly based on an old Swedish folktale, Pyrrhula ("doomlord") is a pitch black journey into utter darkness. This is a tale of foreboding doom… a portent of dark times to come… a blight on the face of this earth. These eight Black Ambient / Doom / Droneworks were brought forth from the abyss of Villa Bohult exclusively for Cold Spring and contain the malevolent vocals of Lord Nordvargr himself!. "Beware the small creatures of light, they only bring misery and death upon the enlightened ones. For they will paint their breast with blood and reap your unborn angels."
Special edition of 100 copies came with an exclusive Nordvargr black and silver patch and were available through Cold Spring mailorder only.
Deleted.
Track Listing:
1. Another Weeping Doomlord Lost
2. Pyrrhula One
3. Inwards To Salvation
4. Tordön
5. Hascimh Reborn
6. Pyrrhula Two
7. Aryana Of The Open Wound
8. Stripped Of All But My Loyalty I Serve
---
---
Reviews:
Musique Machine (5/5)
Heathen Harvest
Medienkonverter
All Music
Zero Tolerance: "Henrik Björkk is the bleak genius behind Nordvargr, and with this latest release, he comes across as one demonic Swede. Pyrhulla delivers us eight tracks based on Swedish folklore and has all the elements one could ask for in a dark ambient work. With some frightening vocals sprinkled throughout, the entire collection of songs plays as a cohesive whole and brings the listener into a depth of despair that bottoms out and then drops you just a bit farther down; there is absolutely no light at the end of this long and truly dark tunnel. Those of you familiar with Björkk's other work with Toroidh and MZ.412 will delight with the direction he tas taken this blackened masterpiece. Highlights include 'Inwards To Salvation' and the brutal 'Aryana Of The Open Wound', but each track has more than enough to offer. Crisp, cold soundscapes laced with exquisite horror allow us to classify Nordvargr along with other greats of the genre such as Lustmord. Kick back with a massive subwoofer and have yourself a dpooky, depressive ride into the darkness."
Side-Line: "The new album from the Swedish lord of darkness aka Nordvargr (known for his numerous projects like MZ4.12, Folkstorm ao) is based on the Swedish 'Doomlord' mythology. Musical wise we're entering a pure doom-universe. Humming sounds from the depths of the earth are emerging to the surface and are floating over a vision of eternal night. It's like some kind of monster moaning, haunting dark dungeons and other sonic corridors. The sound of "Pyrrhula" is a remarkable kind of soundtrack style for an imaginary horror vision. Hard drones like thunder are coming out the speakers while dark humming sonic manipulations give you the impression of a nearby apocalyptic vision. And when you think that the heaviest visions of fear are right behind you the tormenting screams of "Hascimh Reborn" are right in front of you. It sounds like the call of the evil and brings you into a new exploration of your deepest feelings of angst and stupor. Henrik Nordvargr Björkk has launched a solid piece of terrific dark and doom ambient! According to me it's one of his best releases to date!"
Rock-A-Rolla: "Drone doom ambience doesn't come more blacker than when Nordvargr has his hands on the brand. More than hungry to meet expectations head on, Nordvargr drags those hellwards to the cold pit heart of a Sadako-troubled Well. Pyrrhula isn't an album to sit still in a tone-rut and circle itself; the tracks here seem to seep forwards seeking to push the record into the genre's far corners. While it's unmistakably Nordvargr, this is no re-run of past journeys. The only time that reality slips into view is courtesy of the vocals on 'Hascimh Reborn', riding the lean line linking disconcerting and theatrical. These human sounds briefly take away from the sink-into atmosphere – a little wake-up call in the midst of the nightmare, but it's only a brief loss of footing. The slow trek continues through fields of frost, drudging oil and pulsing organics in industrial patterns as well as thick soundscapes – the depth suffusing all the record's cells. Pyrrhula goes out on a high – finales don't get much mightier than the grave closer 'Stripped Of All But My Loyalty I Serve'. this piece's blooded chants and tar-clotted strings leave all genre links behind, and Nordvargr's future looks magificently bleak."
Filth Forge: "Like every year, hyper-prolific Nordvargr doesn't fail to submerge us with new releases, the latest being "Pyrrhula", conceived under the flags of Cold Spring. It's a collection of "black ambient / drone works" composed between 2007 and 2008 and centred around the topic of the "Pyrrhula", a sort of bad omen bird or doom lord, very popular in the ancient Swedish folklore. The eight tracks of the album show mr. Björkk waving an impeccable dark ambient in the tradition of the Cold Meat school, far from the noisy edges of Mz.412 and Folkstorm.
The solemn and catacomb-like atmospheres of "Pyrrhula Two" and of final "Stripped Of All My Loyalty I Serve", the subterranean miasma of "Hascimh Reborn", with echoing cave vocals, and the heavy industrial thuds of "Tordön" don't miss the target and will surely satisfy the supporters of the Swedish giant, as well as of the Norse school's deadly sound."
Hierophant Nox: "A new release from the prolific and twisted Henrik Nordvargr is great cause for celebration; although he has made extensive forays into many of the darker and more avant-garde genres with projects such as Vargr, Folkstorm, MZ.412 and Toroidh, he can always be trusted to bring something freshly horrifying to the table, and no exception is to be made in the case of "Pyrrhula". While the album's billing as 'a pitch black journey into utter darkness' seems like your usual black ambient/drone marketing, it's actually very close to the mark; the darkness almost drips from this fascinating disc.
  A droning, reverberating, distorted atmosphere in unrelenting across the eight tracks on offer, and gives a feeling that is part naturalistic, like freezing winds across a post-nuclear wasteland, and part mechanical, with the drones, for example, on "Hascimh Reborn" sounding like a damned machine drawing some kind of artificial breath. The astral quality of "Interstellar" still haunts "Pyrrhula", in the more hulking, brooding calm of "Aryana of the Open Wound", and the filmic, dark atmosphere of "Inwards to Salvation", but overall the album seems more earth-bound; cavernous, subterranean and deep, with a skin-crawling sense of claustrophobia.
  "Pyrrhula One" is a good example of this; beginning with a cold and wintry reverberating drone, it intensifies with whispers and a discordant distortion which enters like a presence. Shifts in the tone of this droning presence are threatening and tense, and the horror doesn't end with its crescendo, as when this dies down some ritualistic chanting takes up. The vocals on "Pyrrhula" are very powerful; they make their entrance on "Another Weeping Doomlord Lost" seeming partly like an effect rather than a human voice, and throughout the album slip from the organic to the inhuman with frightening results. The screams of anguish on "Hascimh Reborn" contrast horribly with the mechanical sound, while the whispers and exclamations of the excellent "Pyrrhula Two" combine with howls, beeps and a reverb that sits somewhere behind the eardrums, deep in the skull, to give a wholly immersive black ambient experience.
  "Pyrrhula" is apparently inspired by Swedish folklore regarding a type of bird, which can be seen mummified on the cover artwork, and is evoked in the byline "Beware the small creatures of light, they only bring misery and death upon the enlightened ones. For they will paint their breast with blood and reap your unborn angels". That no one seems to be able to pin down the origin of this tale actually only serves to make the album even more creepy; it's the soundtrack to your sanity leaking from your ears, but at the same time is completely engaging and fascinating, with the kind of horrifying atmosphere that is so well-crafted you can sink into it without noticing its component parts. Masterful."
Judas Kiss: "If you have any interest whatsoever in the post–industrial scene, then the name Henrik Nordvargr Björkk will no doubt be one that you're more than familiar with, whether it be because of his legendary black industrial group MZ.412 or one of his many other projects including Folkstorm, Toroidh and HH9 amongst others. Or perhaps it's because of his impressive genre-spanning collaborative releases with Arditi, Merzbow and Goat, or even because of his huge catalogue of solo work, which has seen him experiment with a massive range of styles and genres whist keeping one foot firmly planted within the realms of industrial music. With such a huge catalogue of releases, it's a wonder that Henrik still manages to produce recordings of any great interest or quality, yet time and time again, whichever guise he chooses to record under, he somehow manages to maintain a constantly high level of quality, which is more than exemplified by this harrowingly pitch-black excursion into the soul of malevolent dark ambience.
Based somewhat confusingly on the old Swedish folk tale/mythology of Pyrrhula or 'doomlord', this eight-track album sees Lord Nordvargr deliver a hugely impressive palette of immensely dark and crushing dark ambient compositions, complexly constructed with minute layers of sounds, washes of noise and echoes, manipulated drones, tolling chimes, distorted vocals, spectral choirs and distant spoken-word samples which intermingle into one another to create an engulfing cacophony of powerful otherworldly black ambience that is as enticing as it is alienating.
As a listener, you instantly want to explore the harrowing dark recesses of Pyrrhula, but as you delve deeper and deeper into its shadowed world and come face to face with its dense, unrelenting darkness, your instincts are to turn and run. But there is something almost hypnotic and compelling that makes you stand fast, and instead of turning tail and fleeing you have the urge to explore further into Pyrrhula's majestically malevolent soundscapes and presence.
I have to admit that I'm a little stumped with the origins of this album's inspiration, the Pyrrhula or 'doomlord'. A quick search in good old Google doesn't shed any light (or darkness, if you will) on the mythology of the doomlord, but instead gives a whole swath of information on the Pyrrhula, or Bullfinch as it's more commonly known, with no mention of any Swedish folklore to be found. Confused? I know I was, but then looking at the skeletal, mummified bird corpse that adorns the album's front over and the bullfinch that sits atop of the text 'Beware the small creatures of light, they only bring misery and death upon the enlightened ones. For they will paint their breast with blood and reap your unborn angels', perhaps Nordvargr knows something we don't about this old folk tale or perhaps he's attempting to invent his own through the album. Either way, it doesn't really matter, as the harrowingly engulfing black ambient compositions here are more than capable of holding the listener steadfast with or without the use of folklore, fictional or not, to fill them out.
Utilising the very darkest droned noises and soundscapes, there's a fair similarity in sound and aesthetic to the legendary occultist dark ambient duo Endvra, which gives an indication as to the benighted power and drive Pyrrhula possesses and delivers with its multilayered sound sculptures.
With such a gigantic catalogue of material available, which must play second fiddle only to that of Merzbow, it's always a very pleasant surprise when Nordvargr produces work of this calibre, but yet again the Dark Lord has delivered the goods in the style which only he really can, and in doing so has produced one of the dark ambient genre's truly essential releases in the form of Bullfinch, err, sorry, Pyrrhula."
---