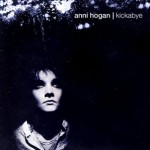 CSR99CD (April 2009)
Anni Hogan | Kickabye
From her early days as a legendary Batcave DJ, through her work wth Marc Almond (Marc And The Mambas, Willing Sinners, La Magia), Anni Hogan is one of the true geniuses of the alternative scene. A composer, songwriter, arranger, producer, promoter and DJ, she helped to shape the sound of the 80s.
In a musical career spanning three decades she has worked with many successful artists in a variety of capacities. As a DJ she performed with artists including: Soft Cell, The The, Einstürzende Neubauten, Test Dept, Japan, Nick Cave and the Bad Seeds, Adrian Sherwood. On Piano and Keyboards she has performed live and in studios all over the world with artists including: Soft Cell, Simon Fisher Turner, Nick Cave, Paul Weller, Barry Adamson, Lydia Lunch, Zeke Manyika, Sex Gang Children, Yello, Caged Baby and of course Marc Almond.
Cold Spring is proud to present her debut release expanded and brought to the public for the first time on CD.
"Kickabye" features some of the leading lights of the alternative scene: NICK CAVE on 'Vixo' (exclusive to this release), MARC ALMOND on 'Burning Boats', FOETUS, BUDGIE (Siouxsie And The Banshees) and GINI BALL amongst others.
The first CD is the original "Kickabye" EP (produced by Jim "Foetus" Thirwell), plus 10 extra tracks from the same period.
The second CD is also tracks from the same period. 'Blue Nabou' features YELLO. Production by BARRY ADAMSON on 'Hopes And Fears', 'Wasting Time', 'Senseless', 'A Place To Belong', 'Everything We Do', 'Self', 'The Story So Far' and 'Each Day'.
This digitally remastered work contains new and exclusive versions of 'The Frost Comes Tomorrow' (originally released on "The Stars We Are" by Marc Almond), 'The Hustler' (originally released on "Mother Fist" by Marc Almond), 'Blood Tide' (originally released on "Violent Silence" by Marc Almond), 'Margaret' (originally released on "Untitled" by Marc And The Mambas).
Track Listing:
CD 1:
1. Vixo
2. Burning Boat
3. Just Like Drowning Kittens
4. Marat
5. Kickabye
6. Delirious Eyes
7. Hope And Fears
8. Wasting Time
9. Senseless
10. Fleurs Dolls
11. The Frost Comes Tomorrow
12. The Hustler
13. Blood Tide
14. Margaret
15. Burning Boats (Foetus Drum Version)
CD 2:
1. A Place To Belong
2. Everything We Do
3. Self
4. Story So Far
5. Each Day
6. Blue Nabou
---
---
Reviews:
"[Anni Hogan] was the woman in the shadows responsible of the fantastic piano/organ sound of various Marc Almond projects… you can enjoy her touch and her capability to turn a piano melody into a romantic or a dramatic voyage… This is history and you won't want to miss it… (5/5) (Chain D.L.K.)
"Kickabye features an illustrious cast of artists… This expanded reissue representing the solo work of Anni Hogan during the eighties is as comprehensive as it could be . Kudos to Cold Spring who stuck their neck out for this one… where else you gonna find a release that includes Nick Cave, Marc Almond, Budgie, Foetus, Simon Fisher Turner, Zeke Manyika, Barry Adamson, Yello…" (Compulsion).
"Anni's fluid and dexterous piano playing drives practically everything that effectively 'is' disc one… quirky, diverse, both enchanting yet conversely disturbing, and well off the beaten track, "Kickabye" is a welcome diversion to the world of avant garde and to all things strange and not very normal at all! Come on in… the water is strangely sparkly… (Hierophant Nox)
"The original version of Kickabye contained five songs of which "Vixo" and "Burning boats" are the most remarkable. "Vixo", sung by Nick Cave, is a tormented, plaintive track that would very well suit on his album The Firstborn Is Dead. "Burning boats", sung by Marc Almond, is a typical product of Marc's fascination with French chansons, avant-garde and the darker things of life… for fans of afore-mentioned artists this double-disc is a must" (Gothtronic).
"Kickabye" ist gelungener 80s Wave-Sound, gemischt mit einigen Größen der Szene. Experimentelle Tracks, die sich aber nicht im Surrealismus verlieren. Der Silberling beweist einmal mehr, dass man nicht immer 'böse' sein muss, um über den Tellerrand hinauszuschauen" (Necroweb).
"Il primo pubblicato si fregiava di partecipazioni illustri e appassionate, un Nick Cave tosto e verace, ancora fresco dei suoi debutti coi Bad Seeds e del pregresso, in un blues dannato e avvincente come Vixo e un Almond esemplarmente apocalittico in una fiammante Burning Boats prodotta da Foetus… sublimi versioni intimiste di pezzi comparsi sugli album di Almond, con The Frost Comes Tomorrow e The Hustler che reclamano insistentemente lacrime o almeno piogge" (7/8, Blow Up).
"il mastro cerimoniere di questo matrimonio è la Cold Spring, per i meriti di avere creduto che il materiale strappato dai cassetti dopo così tanto tempo non fosse gravato dall'odore di muffa e per aver lavorato alacremente sulla ristrutturazione di master quasi compromessi. La qualità digitale di entrambi i dischetti è ottima, segno che i tecnici della label hanno lavorato puntigliosi… il nostro augurio è che "Kickabye" sia la nuova nascita: abbiamo ancora tanto bisogno di fermarci, chiuderci e sognare trasportati dalle sue note…" (Darkroom)
"1984. Londres. El círculo mágico de la movida underground oscura y una joven pizpireta pululando por allí. Esta es Anni Hogan, quien vivió y convivió con los más grandes de la escena… todos los que hemos vivido esa época vamos a disfrutar de un disco que es una cápsula comprimida de pura nostalgia" (Mentenebre).