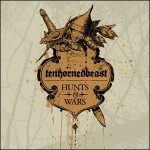 CSR130CD (May 2010)
TenHornedBeast | Hunts & Wars
TenHornedBeast's third album for Cold Spring Records is titled "Hunts & Wars". Recorded over a three year period from 2006 to 2009 this album introduces subtle changes to the established TenHornedBeast sound with shorter delicate interludes separating longer tracks that rage with heavy distortion and doom-drone barbarism.
"Hunts & Wars" progresses the established TenHornedBeast sound using leaden, sub-tuned bass guitar to create rhythms and riffs that dominate a battlefield of vast ritual percussion and droning walls of electric dissonance, creating epic and expansive textures that by turns burn with frost and freeze with fire.
Heavily influenced by the oneiric visions of Robert E Howard and Lord Dunsany. "Hunts & Wars" seeks to evoke the elemental, anti-modern fantasias of these writers and is presented in a lavish digipak designed by noted American graphic designer Kevin Yuen (Sunn O))), Wolves In The Throne Room) to its full grotesque glory.
The days have come when the steel will rule. Titans arise, monuments fall. Ballads of victory and defeat are sung aloud as from the highest steps we are swept on to the eternal Hunts and Wars.
Presented in a 6-panel, spot metallic finish digipak.
Track Listing:
1. Reaching For The Stars We Blind The Sky
2. Hilnaric
3. Father Of The Frosts
4. Ironborn
5. I Am The Spearhead
6. Cimmeria
7. Hunts & Wars
---
---
Reviews:
Brutal Resonance
Chain D.L.K.
Medienkonverter
Darkroom
Necroweb
Alternativmusik
Filth Forge: "
Third full-length for the project of ex-ENDVRA Christopher Walton. Proceeding along the way of pitch black rituals and unsettling atmospheres, this time Tenhornedbeast introduces some different elements, achieving more variety and catching the listener's attention much more effectively than in the recent past. We are introduced into the new CD by an excellent 12-minute assault bearing the title "Reaching For The Stars We Blind The Sky", a drone / doom wall of distortions with hammering and mechanical percussions strongly reminding of the best Godflesh, but, of course, without vocals and recognizable riffs. It's a cathartic and powerful piece, showing the definitive evolution from Walton's early electronic noises, of Cold Meat Industry-derivation, to a more contemporary and effective guitar-based inferno.
The short "Hilnaric" is just a gloomy keyboard interlude, placed right before another sonic mammoth probably in order to let our ears rest for a moment. Indeed, the following "Father Of The Frosts" is another deep chasm of suffocating sounds, between distant electronic mists, obsessive guitar drones and echoing cymbals. Another short intermission is represented by the looped dark horns and deaf beats of "Ironborn", whereas "I Am The Spearhead" returns to the familiar Northern industrial atmospheres of early BDN and Archon Satani, with an obsessive machinery rhythm and substrata of haunting keyboards. Its quality is unquestioned, even if its originality not at the top. The last short interlude, this time entrusted to the minimal and almost melodic "Cimmeria", then it's time for the final, monolithic assault, the title-track. The volume rises progressively, just like the noise generated by the guitar strings and drones. Being this outro extremely long (19 minutes!), it needs your whole concentration to be grasped in its deepest essence.
In a scene where things have got mostly static and inexorably repetitive, Tenhornedbeast have made a significative progress, incorporating sounds and elements of the drone / doom environment to unleash it into the underground caverns and hellish domains conjured by this British necromancer. Listen at high volume to achieve a total wrapping and drowning effect."