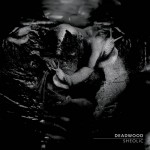 CSR163CD (February 2014)
Deadwood | Sheolic
The desolate new  album from Sweden's Deadwood (aka Daniel Jansson of CULTED). Recorded 2009-2011, "Sheolic" mixes dark ambient with black Industrial and power electronics, making this the bleakest Deadwood album to date. Cold, distorted waves of nefarious electronics, putrescent vocals and dense, heavy rhythms take you to a new sub-level of despair that delivers on many plains of consciousness. Influenced by the downfall of mankind and the men and women that willingly embrace it; from religious cults to those who choose to act on their own. This is the final part of the Deadwood trilogy for Cold Spring – beginning with "8 19" in 2005, continuing with "Ramblack" in 2008, and finishing with "Sheolic" in 2014. Cover art by Laetitia Mantis.
Track listing:
1. A.V.E
2. Pulverization Pulse
3. Compound 4080
4. Dead Waste
5. Traditorem
6. Dissolution Paradigm
7. Malum In Se
---
Reviews:
Vital Weekly
Side-Line
Heathen Harvest
Invisible Guy
Brutal Resonance
Chain D.L.K.
Mentenebre
Alternativmusik
Lux Atenea
Absolute Noise Wall
Sounds Behind The Corner
Darkroom
Rock-A-Rolla: "The latest album from Deadwood, aka Daniel Jansson of Culted, is inspired by those who willingly embrace the downfall of mankind, although it's unclear as to whether this is an attack on compliant apocalypse bystanders or a testament to those who triumphantly derive reason and ascension within inevitable demise. The album sounds like the very abyss that awaits beneath, catching the embers of life as they descend into the vacuum, guided in by the whirl of fizzy echoes and vocal decay that clings to the surrounding surfaces. The album's early tracks sound like the kind of grub that is scraped off Cold Spring HQ walls on a daily basis, but be sure to stick with it – Traditorem alone renders the journey worthwhile, with its clattering loop sounding like an eternal elevator ride driven by a rusted metal winch, each floor announced by he rasp of a broken Tannoy."
Blow Up: Più mediate la posizioni di Deatwood, al terzo atto (BU#90) per Cold Spring. Daniel Jansson è forse più noto per la sua militanza in Culted, nel roster Relapse, ma necessita evidentemente di più evolute evasioni, tradotte nel suo progetto personale che ancor più ch nei precedenti atti in "Sheolic" si dirama in episodi dark ambient come A.V.E., dalle evidenti suggestioni lustmordiane, e Malum In Se, tracce di tradizionale matrice industrial quali Traditorem e Dissolution Paradigm, e, dunque occasionali rispetto al disco di Shift, feroci inasprimenti power electronics in Compound 4080 e Dead Waste.