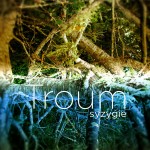 CSR183CD (September 2013)
Troum | Syzygie

Formed by Glit[S]ch and Baraka[H] in 1997, Troum rose from the ashes of Maeror Tri. The duo create unbearably beautiful drones, multi-layered transcendental noise, and highly atmospheric dream-muzak.
Syzygie: Zusammenkunft und Gegenschein zweier Planeten, or: an antithetic relationship between (personified) beings of the spiritual world and their shadows.
A collection of rare / deleted tracks from compilations Vol. II (1999-2002). Everything recorded by TROUM between November 1999 and May 2002 on analogue 8-track. 9 meticulously crafted tracks, carefully compiled by Troum and delicately remastered by Martin Bowes (Attrition).
Cold Spring will release the brand new studio album from Troum in 2014.
Track listing:
1. Ater
2. Makaria
3. Ganymed
4. Fantauma
5. Uegh[Cunabula]
6. S'engourdir
7. Khan-Arachnid
8. Wit Wists Fra-Qistjan
9. Thrausmata Enos Oneirou
Barcode: 5060174955433
---
---
Reviews:
Necroweb (10/10)
Vital Weekly
Side-Line
Heathen Harvest (4.5/5)
Musique Machine (4/5)
Mentenebre
Alternativmusik
Lux Atenea
Other:
Aquarius Records: "If the opening track to this album sounds awfully familiar to the customers here at aQuarius, that's because "Ater" was originally commissioned for the Painted Black compilation on tUMULt – an album of radical demolitions of the Stones' classic track "Paint It Black." The devilish chords from that song loom as a majestic overture above an insistent, infernal cauldron displaying Troum's darkest, most malevolent dronecraft. Troum, being the duo of Stefan Knappe and Martin Glitsch, eschew the vocals and the drums of the Stones' number for just those chords that collapse wearily into a black hole of negative energy. It still sounds as amazing as when Andee issued it on tUMULt back in 2003 (and we still have copies, if you haven't heard it, it's FANTASTIC!!!). As you might guess, Syzygie is a collection of the compilation tracks that Troum produced at the turn of the millennium. This track is a great opening number no matter how you slice it, leading immediately into a comparably pretty track "Makaria" from the Walls Are Whispering compilation on EE Tapes, with a pastoral shimmer from maudlin guitar chords awash with Cocteau Twins' tears. This, like the Painted Black track, is one of the few tracks on this compilation that we were fortunate enough to hear; but much of this material was released on super obscure compilations. Another highlight here is the slow-burning "Fantauma" which predates much of the Nadja crush of doom-drone guitars and machined drum loops by a couple of years. Amidst the cold drone and heavy hypnosis, Troum's consistency is really notable, especially when so many artists release throwaway tracks for compilations; and it makes for a very solid album. It would have been great if Syzygie included their version of "Cold" by The Cure, from the Pornography cover album on Fear Drop; but we suppose we'll have to wait for the next Syzygie volume".
Rock-A-Rolla: "Syzygie takes a sweep of the Troum 1999-2002 archives, in a retrospective prelude to their new full-length in 2014. There's a strong adherence to a few simple sound manipulation processes here – teasing out chimes and resonances into slow motion reverse, looping tiny fragments until they form little ruts of ambient hypnosis – and the pieces are only more potent for their purity of intent. And while the mental images that come to mind here are now common stock in electronic ambient (underwater explorations, hypnagogic deep space voyages), it's only to be expected from material that's now over a decade old. Beautiful sounds nonetheless".