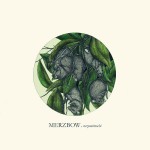 CSR200P  (November 2014)
Merzbow | Nezumimochi
Cold Spring are very proud to announce our 200th release – the brand new studio album from the King of Japanoise – MERZBOW. The album comes on a stunning picture disc vinyl and CD pack (not available separately). However, both formats contain exclusive and completely different tracks; the CD isn't simply a copy of the vinyl. Over 90 minutes of crunchy, intense noise, complex structures, and hypnotic samples, all with that special Merzbow touch. Recorded this summer, the album is limited to 500 copies. Deleted.
---
---
Track listing:
LP
A1. Rat (18:08), B1. Rice Cake (17:55)
CD:
1. Tamatsubaki (12:41), 2. Joteishi (16:27), 3. Matebashii (25:59)
---
Reviews:
Musique Machine (5/5)
Norman Records: "Those nasty types over at Cold Spring Records have managed to turn out a full 200 releases over the years, and to celebrate, the King of Noise himself, Mr Merzbow, has provided them with the 90+ minutes of his patented brand. Pressed (with different tracklistings) to both LP and CD, Nezumimochi is guaranteed to satisfy."
Rumore Mag (8/10): Destino vuole che il nuovo operato di Masami Akita coincida con la duecentesima release di casa Cold Spring. Un onore reale per l'etichetta che festeggia l'evento promuovendo un'edizione comprendente sia il picture in vinile sia il CD. Nel vinile troverete in rassegna il loop acido e claustrofobico di Rat e il flusso cyber concreto-catatonico di Rice Cake, mentre le restanti tre parti nel supporto digitale rivelano il lato psichico più brutale e corrosivo della corrente akitaina (Tamatsubaki è pura apocalisse). Il senso di alienazione e oppressione del tema concide con l'artwork: le piante della vita ormai sembrano produrre unicamente topi. Tsukamoto è sullo sfondo, ma qui pare delinearsi uno specchio esaustivo e agghiacciante della condizione umana contemporanea.