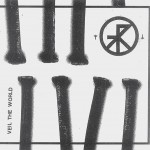 CSR205CD (January 2015)
Trepaneringsritualen | Veil The World
»All seals have been broken« proclaims a demonic voice on the titular track of Veil The World, and that is something terrifyingly evident in the music contained therein. On Veil The World, Trepaneringsritualen veers from crepuscular ritual moods to rabid death chants reveling, even celebrating the imminent end of flesh. Veil the World  – originally released in a very limited and ultra-lavish box by Kości Tapes in 2011 – marks the half-way point between the earlier, more atmospheric works of T × R × P, and the more visceral aggression of the later material.
Trepaneringsritualen explores themes of religion, magick and the hidden realms of consciousness, taking its musical cues from the old school of ritual ambient & death industrial. Rhythmic and seething at times, and oozing forward with a creeping sense of desolation at others, Trepaneringsritualen conjures forth bleak but mesmerizing visions of the end-times.
Originally released in an edition of just 40 tapes in 2011, we're very proud to announce the CD reissue of "Veil The World". Remastered and presented in a 6 panel digipak, T x R x P once again assert themselves as the true masters of Swedish Ritual Industrial. Ltd x 1000 copies only. Anyone who saw the show at SE:UK Industrial Alliance knows this is *essential*!
---
Track listing:
1. Cherem
2. Veil The World
3. Avgrunden
4. Lightbringer
5. Drunk With Blood
6. Nekyia
7. Akeldama
8. Invocation
9. C'est Un Reve
Barcode: 5060174956935
---
---
---
Reviews
Heathen Harvest
Side-Line
Noise Receptor
Musique Machine
Lux Atenea
Alternativmusik
Blow Up: Come già dicevo sul BU#197, non meno spietato è Thomas Martin Ekelund, altro esponente della crudele quanto vitale scuola svedese. "Veil The World", che in forma di tape, contenuto in box, era stato pubblicato dalla polacca Kosci nel 2011 in quaranta copie, si colloca come spartiacque tra la fase iniziale, genericamente più ambient oriented, e la più recente di una più pronunciata aggressività, con Cherem e la claustrofobica Lightbringer che appartengono al primo ceppo e Veil The World che affonda i colpi con arrembante percussività noise e declamazioni, come l'assalto sconsiderato e furioso di Drunk With Blood, l'annichilente Akeldama, gli echi di pratiche da Santa Inquisizione di Avgrunden, sino alla lettura, per al verità tutt'altro che coinvolgente, di C'est Un Reve di Death In June.