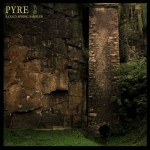 CSR207CD (September 2016)
Various Artists | Pyre
A nice-price CD compendium of our current / forthcoming releases. 15 tracks of Industrial, Esoteric, Dark Ambient, Ritual, Japanese Noise, Drone, Power Electronics, Doom, Death Industrial, Experimental. Unearth the world of Cold Spring! Sealed card slip.
Track Listing:
1. TROUM 'Outer Brain Outsourcing (Excerpt)' (Acouasme CSR213CD)
2. KHOST [Deconstructed And Reconstructed By] GODFLESH 'Inversion' (Needles Into The Ground CSR215CD/LP)
3. LA BREICHE 'Le Mal Des Ardents' (Le Mal Des Ardents CSR224CD)
4. SKULLFLOWER 'Furfur' (Spirals Of Great Harm CSR225CD)
5. PENNY RIMBAUD'S L'ACADÉMIE DES VANITÉS 'What Did You Know, What Did You Care?' (Yes Sir, The Truth Of Revolution CSR223CD)
6. TUNNELS OF AH 'Purging Process' (Surgical Fires CSR226CD)
7. SUTCLIFFE JUGEND 'Howl (Edit)' (Offal CSR209CD/LP)
8. TENHORNEDBEAST 'All Fled (Excerpt)' (Death Has No Companion CSR227CD)
9. SUN RA | MERZBOW 'Granular Jazz Part 4' (Strange City CSR228CD/CSR229LP)
10. SHE SPREAD SORROW 'Crushed On The Pillow (Excerpt)' (Mine CSR231LP)
11. COIL 'Fire Of The Mind' (Backwards CSR203CD/LP)
12. COMMON EIDER, KING EIDER 'A Wisp Of Smoke, And Salem Burns (Excerpt)' (Extinction CSR219CD)
13. TREPANERINGSRITUALEN 'All Hail The Black Flame' (Deathward, To The Womb CSR222CD/LP)
14. HENRIK NORDVARGR BJÖRKK / MARGAUX RENAUDIN 'Sunyata' (Anima Nostra CSR216CD)
15. DAVE BALL • JON SAVAGE 'Dead Neon' (Photosynthesis CSR217CD)
Barcode: 0641871744831
---
***Or FREE when you spend £20+ at our webstore. Just write "SAMPLER" in the comments box.
---
Reviews
"I like the great diversity on "Pyre". The tracklist has been progressively built up and finally moving into a brilliant final part with tracks from Troum, She Spread Sorrow, Common Eider King Eider, Henrik Nordvargr Björkk and Dave Ball + Jon Savage. It also remains a particular and I dare to say emotional experience to re-discover the genius of Coil." (Side-Line)
"Mappa ideale per orientarsi tra le nuove uscite, "Pyre" finisce per stimolare l'acquisto dell'intero recente catalogo della Cold Spring, segno evidente di una crescita continua e maiuscola da parte della label inglese." (Darkroom Magazine)