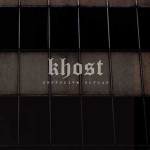 CSR211CD (June 2015)
Khost | Corrosive Shroud
Noisey premiere 'Corrosive Shroud': "Say your prayers and wrap your ears in Khost's 'Corrosive Shroud' of Industrial Doom":
Khost is Andy Swan (Iroha, Final, Atrocity Exhibition),and Damian Bennett (Carthage, Deathless).
Corrosive Shroud is the second album from Birmingham band khost, following the 2014 debut Copper Lock Hell. The album has a singular theme: inside the hand-me-down concrete relics in which we necessarily live and from which we draw perceptions. The music is the sound of lightless blocks, oxygen-starved sheds and apparitions, using stark and unrefined found sounds stacked against Khost's massively detuned guitars. The album includes Eugene Robinson of Oxbow and Syan who add their stories to the narrative, along with personnel Jo Quail, Daniel Buess, Gustave Savy and featuring a contribution from Tel Aviv-based Hostage.
---
---
---
Track listing:
1. Avici
2. Revelations Vultures Jackals Wolves
3. Black Rope Hell
4. A Shadow On The Wound
5. Inversion
6. Forgery
7. Red Spot
8. Bystander
9. VMIH
10. Avici, Hostage Remix
---
Reviews
The Quietus
Metal Ireland
Vital Weekly
Musique Machine (4/5)
Whisperin & Hollerin (9/10)
Ghost Cult (9/10)
Son Of Flies
Nova Express
Stigmata
Terrorizer: "Not in a bad way, but Corrosive Shroud's 55 minutes feel like five hours to wade through. Such is the thick density and the constant, overwhelming bleakness of the sound wall produced this this Birmingham duo, that halfway through the terrifying third song, 'Black Rope Hell', you'll longingly look at the tracklist to see how much you'll still have to endure of this hell. At times darkly tribal, at times purely a punishingly black / industrial sort of more full-on Godflesh, it always rescues itself from the brink at the last possible moment before the relief of pressing stop, with slight moments of shoegazing beauty to allow for a brief breather before entering the morass once more". (8/10)